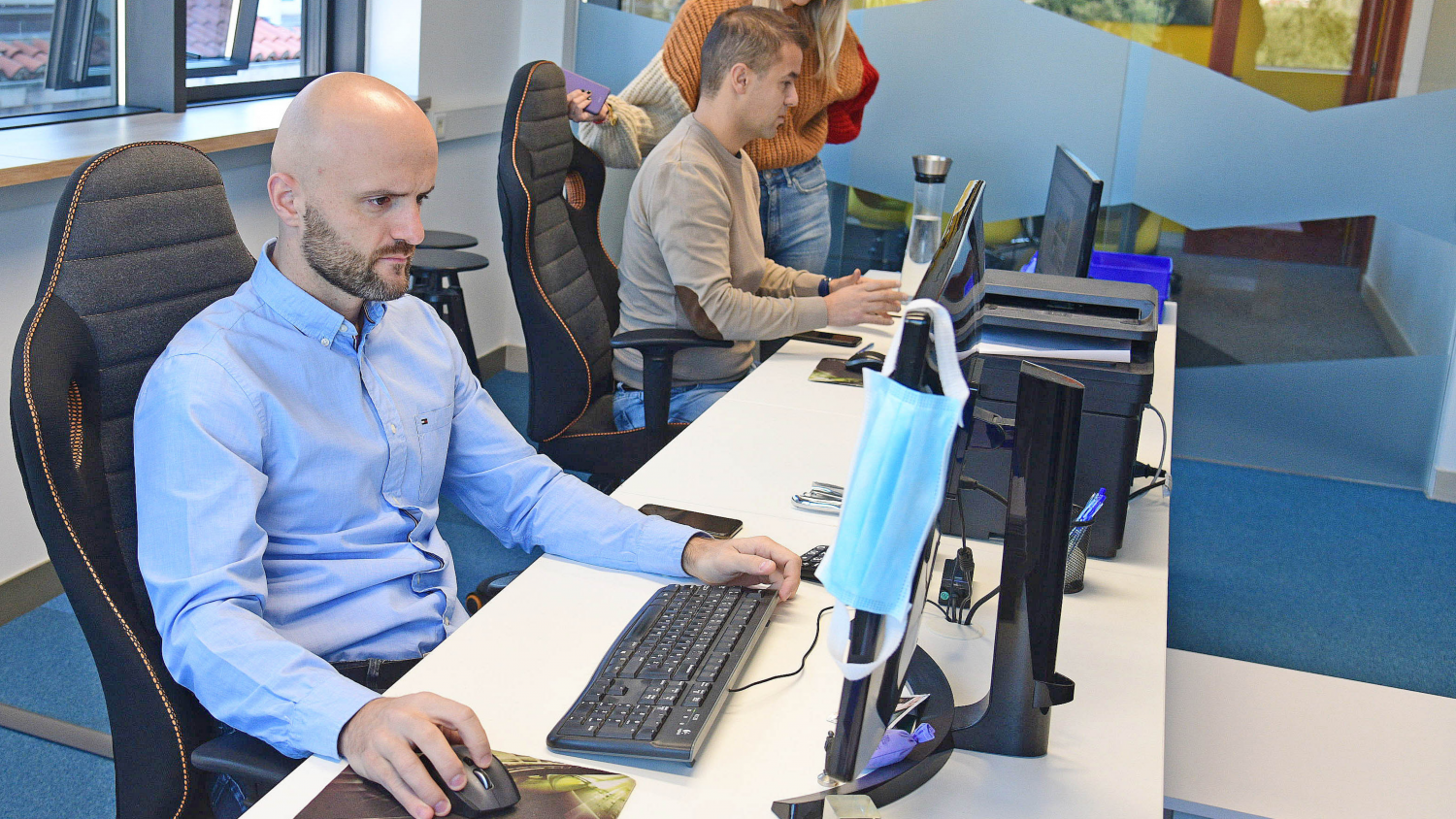 We spoke with Nikola Grubelić, CEO and co-founder of a Vacation Rental agency, Direct Booker. The agency also offers technological solutions and products and the world's leading franchise model in the short-term vacation rental industry. The business model relies on its technological development, Channel Manager & Vacation Rental Software, Booker Tools, preferred by the world's largest booking channels (Airbnb, Booking.com, Expedia, etc.). Direct Booker currently manages +8000 property units and +100 000 bookings per year in 11 countries.
The beginnings of Direct Booker?
I managed one apartment 11 years ago, and that's when I realized the potential of renting private accommodation. I suggested to my friend and today my business partner, Nino Dubretić, to start thinking of renting as a serious business. We invested money, and so the story began. I would say that the desire for constant growth, job creation, and constant investment in the company are factors that push us towards even greater success.
What's the story behind Booker Tools software? Why did you even develop your own technology?
In the beginning, we used foreign technological solutions to run our business well and manage property units. The technology back then was not at the level it is today, so we had to combine the two systems because one had certain functionalities, which the other did not, and vice versa. Since there was no perfect solution on the market for our needs, this combination of the two systems was solid.
However, constant price changes disrupted our budget plans, i.e., the financial structure and partners did not understand our needs. They did not have a clear "development road map," which eventually led us to start thinking about our technology development, so we began to develop Booker Tools. Initially, we developed PMS (Property Management Software), and after that, we started developing connections.
The great advantage of Booker Tools over similar solutions is that it was developed according to a travel agency's needs to solve its business problems, such as distribution on booking channels and automation of various business processes. What problems did Booker Tools solve for Direct Booker?
I'll give you one banal example; we would manually enter each credit card data into a POS device, enter the amount, and finally authorize and charge it in the Risk Department. However, when we merged the Payment Gateway, i.e., automated and introduced profiles of how the system will respond to certain reservations based on specific rules, it came to the point that we no longer needed the Risk Department.
That means, when each reservation enters the system, it is recognized, and it is possible to determine what kind of reservation it is, what is the cancellation policy, what the rules are, and based on that, makes a decision when the reservation will be pre-authorized and charged. Most important of all is that the charges are made automatically. Previously, the calculations were done manually for each homeowner individually, and now this is done automatically.
And how did Booker Tools evolve? It is developed based on the needs of Direct Booker as its biggest client. We develop certain modules in the system functionality and customize the system to solve our problems. Booker Tools is the answer to our problems. If we have a problem with distributing objects across multiple channels, Booker Tools is the answer. If we have a problem with the repetitive jobs we do, the solution is a content API connection that automatically sends content from the system to all the listed channels and all other channels. Repetitive tasks of object setups are history now; setups are automatically presented from the system.
Technology is the key to solving all the problems of an agency that manages property units. We develop all of these business practices as Direct Booker through Booker Tools solutions. We want to help other agencies in their development and digital transformation, showing them the benefits of working with Booker Tools, how it helps them and what problems it solves.
For whom is the Booker Tools intended?
Booker Tools is intended for everyone who is renting accommodation in a professional and quality way, understands, and is ready to get into technology. The biggest problem we face when we're selling technology is that someone doesn't trust us, why our product is good and who we are.
We are Direct Booker, an agency with 11 years of experience, which has developed a technological solution to make business easier for ourselves. Our results are visible. We have credibility, which is the first thing that needs to be presented.
The common belief is that a technological solution is expensive and cannot be paid for. We made it for our own needs; we created a financial form for agencies like Direct Booker, who manage property units and especially adapted to this uncertain situation. We have created a module where you don't have fixed or monthly charges but charges according to the realized reservation, without cancellation or modification charges.
Why are we a quality partner for agencies? Because we provide them quality technology and go together through a bad period, if there are no reservations, we do not earn money either because we only participate in the percentage when the reservation is made.
Another problem when selling technology is that the user is never ready for digitization and digital transformation. A large number of agencies are satisfied with low-quality solutions, which are not adapted to their business.
Which technological innovation has Booker Tools brought?
Experience from agency business leads to our modules being more complex. We are not a classic IT company but an agency that solves its problems with its technology. I think our Revenue Manager is innovative. Smart pricing tools originate from the aviation industry, and they have brought yield pricing to perfection, which has been transferred to hotel and apartment accommodation. We believe that this module will significantly speed up our work processes, lead to better revenue, reduce the number of working days, increase occupancy, and ultimately increase profitability. We have automated everything from creating reservations, entering reservations to issuing invoices, generating a self-billing invoice to the homeowner, fiscalization, and regulation.
When we talk to agencies, people are thrilled with the complete system and see that we have gone deep into it. However, we did not go deep into it, but we are deep in this business, and then the system is our expression towards the outside. If we work well as an agency, then we must have a quality system as well.
In which stage of development is Booker Tools now?
The latest innovations in Booker Tools software are Revenue Manager, an automatic generating page, the ability to share inventory, can be said as a "market place" where inventory can be shared with another agency within Booker Tools. We are working on the development of a module for direct booking, which is currently a big trend in the world of renting accommodation. We connected to all possible channels and payment gateways, which means that we met all the criteria in terms of distribution, billing and modules that I have already mentioned.
We plan to automate certain business processes within Direct Booker from March to May. Our goal is to offer everything we make for Direct Booker to Booker Tools users as well. From May to October we will work on various integrations that we will connect to the system, eg contactless check management system, smart locks, system for operations such as Operto, Properly … We will add various integrations that will somehow complete our PMS for an agency that, for example, deals with cleaning and welcoming guests.
We will constantly work on the development of existing modules because our goal is to increase and improve them by 10-20% and introduce new ones every year. And most importantly, I think we will work on a universal/centralized inbox. Our idea is that the system Booker Tools should be a central place to manage all operations, including communication with guests. We have already started working on this development and reached a certain level. The idea is to integrate all booking channels into a centralized inbox and also connect with Whatsapp and Viber so no matter what communication medium we use to talk to a guest, we have everything in one place. The organization of e-mails by priority in the system is also very important. Practically, if you now have 50 guests and 50 e-mails, or 150 messages, the first has to be the one that is most urgent, that is, a message from a guest coming today, and so on in chronological order. So this centralized form must be in both mobile and desktop versions. After development, it is necessary to optimize the system according to user needs in order to have a better and simpler overview. There is a lot, development never stops.
What would you say, why is it important now that Property Managers have technology solutions like Booker Tools?
To do some work it is clear that you have to have a good tool, it has always been so. For example, if you go digging the ground and don't have a good tiller and do everything manually, it is clear that you will need a lot more time and energy to do the same job that you would do faster using a good tool. The same is with technology, especially now that there is a crisis, because digital transformation is the key to success.
We must be ready that tomorrow, when tourism recovers, we can do the same or more work with the same or a smaller number of employees. This is exactly what is impossible to do without quality technology. Simply, those who follow the technology and are in line with the trends will always be better and achieve better results.
The key to everything is that we can do the same or a larger amount of work, generate more turnover and revenue, and ultimately more profit. And we can't do that if we need more people, which we can't pay. So, the key is the technology, but not in the sense that we are reducing the number of employees thinking technology will do everything instead of them. No, we need quality and satisfied employees who will, by using technology, be able to dedicate more time to other work processes than to frantically type, close and synchronize calendars. Technology will increase productivity and efficiency while employees will be able to dedicate themselves to improving the quality of business, all of which will result in higher profits and salaries.
In my opinion, this is what companies need to do, invest time and energy to move from this stage in which they are now, to technology, so that in the end they have clear benefits, both them as a company and their employees. When we talked to many employees, not business owners, it happens they do certain repetitive tasks that take their time and are not so productive in the end. Business owners, on the other hand, view investing in technology as a addtional cost, not an opportunity to improve their business. The point is to look at technology as an investment that will take business to the next level, and employees will be more satisfied and productive. This will result in an increased number of acquired property units, and on the other hand, employees will be able to dedicate themselves to improving the satisfaction of existing customers. All this together will lead to a revenue increase.
In the end, tell us a bit more how the payment works for Booker Tools?
We decided not to charge on a monthly, fixed basis but on the performance, ie percentage according to the agencies, understanding their current status and situation. Our goal and idea is to be a quality partner to agencies by offering them quality technology, meaning prosperous and modern technology with all current and future modules.
https://blog.direct-booker.com/wp-content/uploads/2021/03/Nikola-BLOG.png
3240
5760
directwp_user
https://blog.direct-booker.com/wp-content/uploads/2021/05/logo-direct_booker_600.png
directwp_user
2021-03-12 09:52:11
2021-05-22 12:14:15
Technology is the key to solving all the problems of an agency that manages property units