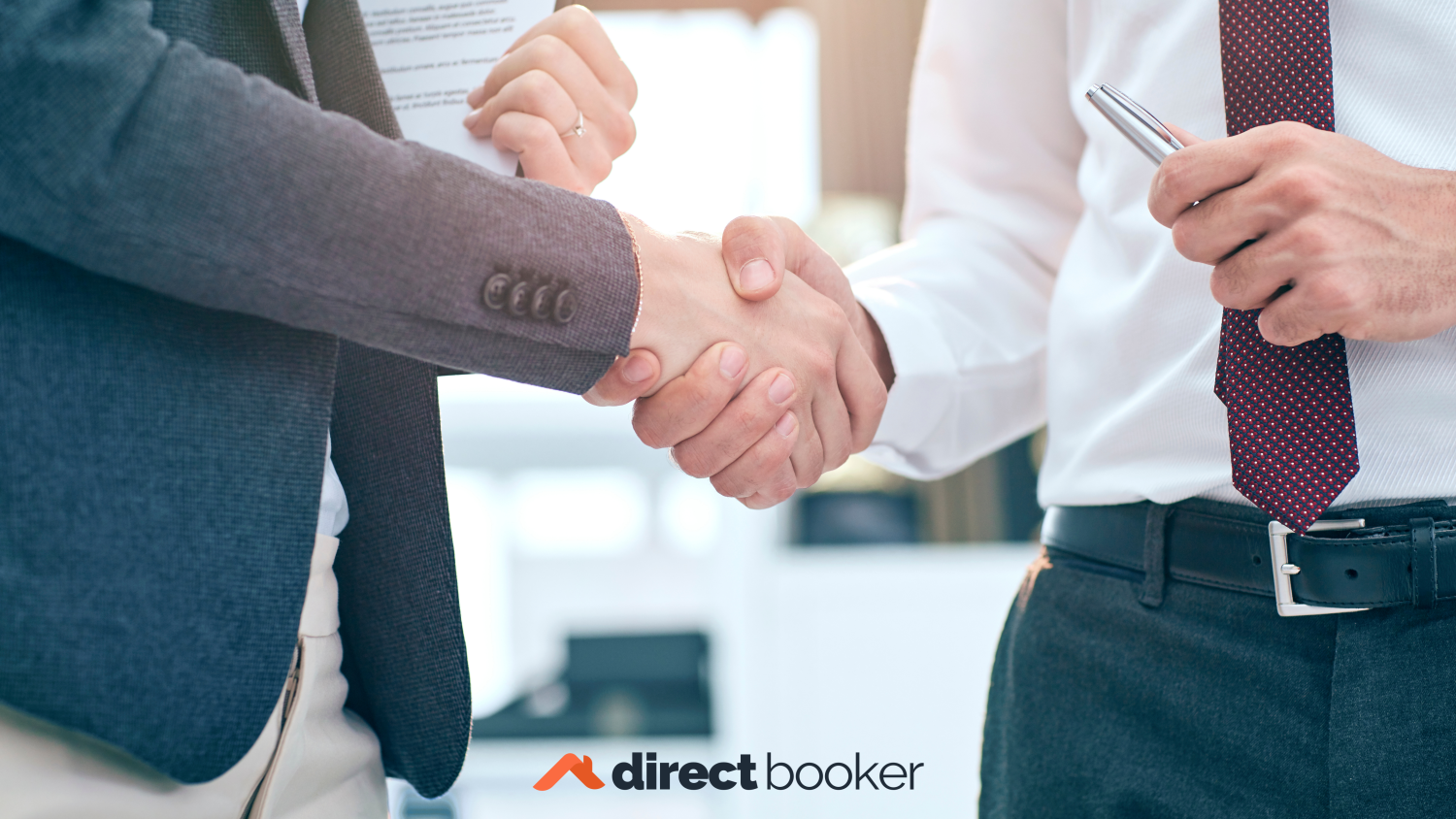 Samostalno iznajmljivanje turističkog smještaja može oduzeti jako puno vremena i često ne daje željene rezultate. Jeste li zainteresirani prepustiti posao profesionalcima? Više od 3027 iznajmljivača ukazalo je svoje povjerenje Direct Booker-u.
Direct Booker je svrstan u TOP 10 svjetskih agencija za Menadžment Turističkog Smještaja. U posljednjih 11 godina tvrtka je svojim radom i bogatim iskustvom u potpunosti usavršila vlastiti model menadžmenta turističkog smještaja prema potrebama privatnih iznajmljivača. Direct Booker maksimalno olakšava cijeli proces iznajmljivanja turističkog smještaja i donosi veći broj rezervacija po višim cijenama, uz uštedu vremena.
Direct Booker menadžment dolazi u paketu provjerenih usluga:
Online oglašavanje
Direct Booker provodi optimizirano oglašavanje: smještajne jedinice postavljaju se na veliki broj online kanala za rezervaciju smještaja (Booking.com, Airbnb, Vrbo, Expedia, Google, Tripadvisor + direct-booker.com i mnogi drugi).
Online prisutnost objekta je vrlo bitna jer omogućuje da smještaj ostvari maksimalne prihode. Za to se brine Account Manager koji kreira ponudu prema onome što gost traži glede dužine boravka, broja osoba, pravila plaćanja i otkazivanja, udaljenosti od check in-a, senzonalnosti i drugo).
Revenue menadžment
Cijena smještaja nije fiksna i ovisi o raznim parametrima (odnos ponude i potražnje u tom trenutku, popunjenost u tom razdoblju, radi li se o ranoj, redovnoj ili kasnoj rezervaciji, itd.). 
Revenue menadžment se brine o tome koja je najbolja cijena smještaja u datom trenutku. U tu svrhu je Direct Booker razvio automatizirani alat za upravljanje cijenama i restrikcijama pod nazivom Revenue Manager, koji automatski postavlja pravu cijenu u tom trenutku. 
Cijeli proces nadzire vaš osobni Account Manager. Njegov posao je donijeti ispravnu odluku u pravom trenutku i osigurati da svaki objekt ostvari svoj maksimalni potencijal. Za razliku od osobe koja se samostalno bavi iznajmljivanjem turističkog smještaja, Account Manager može u svakom trenutku odrediti optimalnu cijenu smještaja. Obzirom da nadzire više objekata, ima uvid u više podataka i na temelju toga zna koja je najbolja cijena za koji smještaj. 
Komunikacija s gostima
Kvalitetna komunikacija s gostima donosi dobre recenzije, a dokazano je da recenzije imaju izravnu vezu s prihodima. Za to se brine Odjel korisničke podrške Direct Booker-a, koji je dostupan i gostima i iznajmljivačima turističkog smještaja 365 dana u godini, od 8 do 24 sata. O njihovoj profesionalnoj usluzi dovoljno govori to da su ocijenjeni  s 9.1/10 na temelju 50 000+ recenzija.
Upravljanje administracijom
Plaćanje i fakturiranje računa gostima, kao i PDV i ostali zakoni, administrativni su zadaci koji se moraju redovito rješavati, a iznajmljivačima turističkog smještaja mogu oduzeti puno vremena. Odjel Financija Direct Booker-a brine o svim administrativnim procesima objekata i drži ih ažurnima.
Vlasnikovo sučelje
Da bi olakšali iznajmljivačima uvid u rezervacije i druge pojedinosti njegovog smještaja u svakom trenutku, Direct Booker nudi osobno Vlasnikovo sučelje putem mobilne aplikacije i desktop verzije našeg softvera Booker Tools. Sve informacije na jednom mjestu iznajmljivaču osiguravaju bolju organiziranost. Iako se sve nove informacije glede rezervacija automatski šalju e-poštom, iznajmljivači koriste svoje osobno sučelje kao glavnu i jedinu platformu za svoje poslovanje. Vlasnikovo sučelje sadrži sve detalje rezervacija, dolaske, kalendar, cijene, račune, statistike, uz mogućnost da iznajmljivači samostalno ažuriraju (ne)raspoložive datume kao i da unose vlastite rezervacije (što je u našem poslovnom modelu dopušteno i to bez naknada).
Direct Booker jamči osobni pristup, iskreno partnerstvo, predanost i dokazani poslovni model.
Jedino pitanje koje trebate postaviti jest: Može li vam Direct Booker zaraditi više, dok vi radite manje? Za više informacija kontaktirajte nas: bit.ly/3duKB6V
https://blog.direct-booker.com/wp-content/uploads/2021/12/Blog-post-menadzment.png
3240
5760
marketingblog
https://blog.direct-booker.com/wp-content/uploads/2021/05/logo-direct_booker_600.png
marketingblog
2021-12-07 13:59:40
2021-12-14 08:42:33
Može li vam Direct Booker zaraditi više, dok vi radite manje?