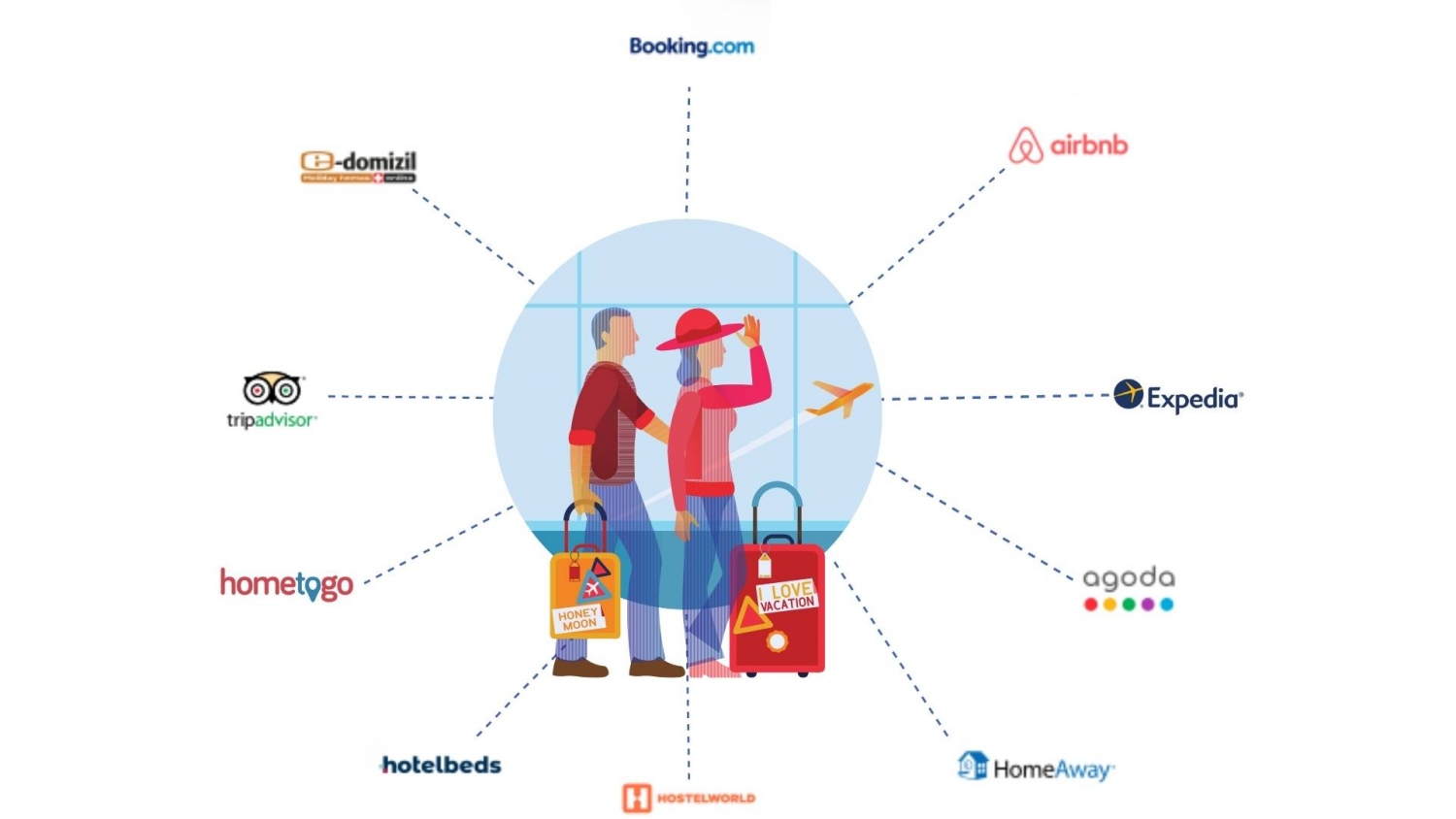 Using Channel Manager is a basic requirement for success in the Vacation Rental Industry. Besides providing more visibility, automatic content, rates, restriction, and availability management on all booking channels, Channel Manager is a time saver and scalability precondition. 
Being present on multiple sales channels will help you to develop your business as Channel Manager allows you to advertise your listings on multiple channels by managing them from one place.
Booker Tools features Channel Manager connected by two-way connection with 10 sales channels. Our partner NextPax Channel Manager provides a connection to additional 40+ sales channels directly via Booker Tools.
Booker Tools Channels Manager is connected to:
#1 Booking.com
Booking.com was founded in 1996 and is headquartered in Amsterdam, Netherlands. It has become the go-to booking website for all things travel. Booking.com dominates the industry, along with Expedia. According to HotelTechReport, Booking.com and Expedia control approximately 95% of the online travel market.
In Europe, Booking.com drives 50% of all European online hotel bookings (Source Tnooz).
Booking.com charges a commission of 10-18% (15% global average) per booking depending on the location and the status of the property. Being a global leader in listing properties online, Booking.com caters to travellers of all kinds. Any accommodation type including hotels, hostels, motels, B&Bs, apartments, vacation homes, cottages, cabins, villas, resorts, boats, luxury tents, etc lists their properties on Booking.com.
Booking.com listed Booker Tools as Premier Connectivity Partner, showing our technology meets the highest technology standards in the industry . 
#2 Airbnb
Airbnb is becoming one of the largest community for hosts and guests, with over 150 million users. Airbnb was founded in 2008 as a startup, and today is the most popular booking website that completely revolutionized the way travellers book their stay and how owners market vacation rentals.
Airbnb's crowd-sourced, cultural approach to distribution has transformed the hospitality industry.
Airbnb travellers want to experience a destination like a local look, as 74% of properties are located outside main hotel districts.
Airbnb listings range from air beds in apartments to enhanced castles. Guests can find property types such as hostels, bed & breakfasts, apartments, castles, hotels, camping, farmhouses, lodges.
#3 Expedia
Expedia is the world's largest travel company handling flights, car rentals, cruises, activities, hotels, and vacation rentals. They have localized sites in numerous countries and as a channel, it has a strong global presence. Adding Expedia to the vacation rental marketing mix will generate extra exposure on the numerous sites that belong to the Expedia Group.
Expedia charges a commission of 12-20% (on average 16.5%) depending on the market and property type. Expedia attracts a large audience as they are offering a variety of travel products.
Expedia listings include property types such as hotels, hostels, bed & breakfasts, campgrounds, lodges, pensions, apartments, palaces, townhouses, farmhouses, and other vacation rental types.
Expedia listed Booker Tools as 2021 Preferred Connectivity Partner among best technology providers for Expedia.
#4 Agoda
Agoda was founded in Thailand and is headquartered in Singapore. Agoda has over 2 million listings and it is the strongest in Asia, particularly Malaysia, Taiwan, Indonesia, Thailand, and the Philippines. It forms part of Booking Holdings; the parent company behind Booking.com.
Agoda is one of the fastest-growing travel booking platforms in the world. In terms of its marketing approach, the company places a strong emphasis on providing customers with cheap or discounted accommodation.
Agoda charges a commission fee of 15%, and Agoda guests are travelers wanting to travel to less popular and rural areas in Asia because Agoda is often their only choice.
On the Agoda sales channel, every type of accommodation can be listed, from Luxury hotels to budget ones, apartments, villas, vacation rentals, and bungalows.
#5 TripAdvisor
TripAdvisor is most well known for its extensive library of over 600 million travel-related reviews on properties, restaurants, airlines, activities, and more. It also allows travellers to book and reserve services through the website. Reading about the experience of others is a great way to book (or not) with confidence.
With 455 million monthly visitors, according to TripAdvisor's sources, this website is the top choice for travellers.
TripAdvisor charges a commission of 12-15% (on average 15%) per booking. The user of TripAdvisor is generally interested in reading candid guest reviews of everything from hotels to restaurants and attractions that are listed on the platform. Travel services offered by TripAdvisor include hotels and vacation rentals, tours and tickets, flights, and restaurant reservations.
#6 E-domizil
E-domizil was founded in 2000 and is headquartered in Frankfurt, Germany. Today it is one of the leading vacation and holiday home sites in the world with more than 450.000 properties localized in countries such as Croatia, Hungary, Cyprus, Greece, Denmark, Italy, Montenegro, Spain, Bulgaria, and many more.
E-domizil travellers prefer character, privacy, space, and a variety of amenities as well as a larger audience of families and group travellers. Listings include property types such as hotels, hostels, bed & breakfasts, campgrounds, apartments, farmhouses, and other vacation rental types.
#7 HomeToGo
HomeToGo is a price-comparison search service for vacation rentals, offering 18 million offers in over 200 countries. Founded in 2014 in Berlin, they work with more than  2,000 vacation rental companies worldwide in over 200 countries. The platform sees over 23 million visitors every month.
The portfolio of vacation rentals ranges from vacation homes, apartments, hotels, boats, castles, hostels, lodges, resorts, bed & breakfasts, campgrounds, pensions, and farmhouses.
#8 HomeAway / Vrbo
Vrbo is part of the Expedia Group and has its focus on providing vacation rentals in the United States. Vrbo is a network of 50 sites around the world, receiving 75 million visits per month. It focuses on non-urban markets, which has made it one of the strongest channels in 2021.
Vrbo caters to a wide traveller base. However, they tend to be more of a reference point for families than other channels.
On Vrbo guests can find a vast offer of property types including houses, apartments, cabins, cottages, bungalows, studios, townhouses, villas, resorts, hotels, guest houses, lodges, chalets, caravans, farmhouses, estates, bed & breakfasts, country houses, boats, and even houseboats.
#9 HostelWorld
Hostelworld has more than 13 million reviews across 17,700 hostels in more than 178 countries, making the brand the leading online hub for social travel. HostelWorld lists Hostels around the world, and headquartered in Dublin it has offices around the world such as London, Shanghai, Sydney, and Porto.
Hostelworld receives a commission between 10% and 25% for each booking that is made through their website or app. Travellers who crave unique experiences that Hostelworld facilitates with the best choice of hostels around the world.
#10 HotelBeds
Since the establishment of HotelBeds in 2001, their hotel portfolio now holds 180,000 hotels, including globally recognized brands like the Hilton, Sheraton, Intercontinental, Hyatt, and many more. They span over 185 countries covering Asia Pacific, Europe, the Americas, and the Middle East.
Travelers seeking quality standards with exclusive standards that they cannot find anywhere else will book their stay via HotelBeds. Hotels, resorts, apartments, villas, bed/breakfasts, hostels, boutique hotels, apart-hotels they all list on HotelBeds.
We stay at your disposal to get more information on how to list your properties via Booker Tools Channel Manager.
If you want to further develop your vacation rental business be present, be active and generate more bookings.
https://blog.direct-booker.com/wp-content/uploads/2021/06/Copy-of-Odjel-Prodaje-Grafike-Ana.jpg
1080
1920
marketingblog
https://blog.direct-booker.com/wp-content/uploads/2021/05/logo-direct_booker_600.png
marketingblog
2021-06-18 11:00:38
2021-06-18 12:20:18
BOOKER TOOLS CONNECTIONS