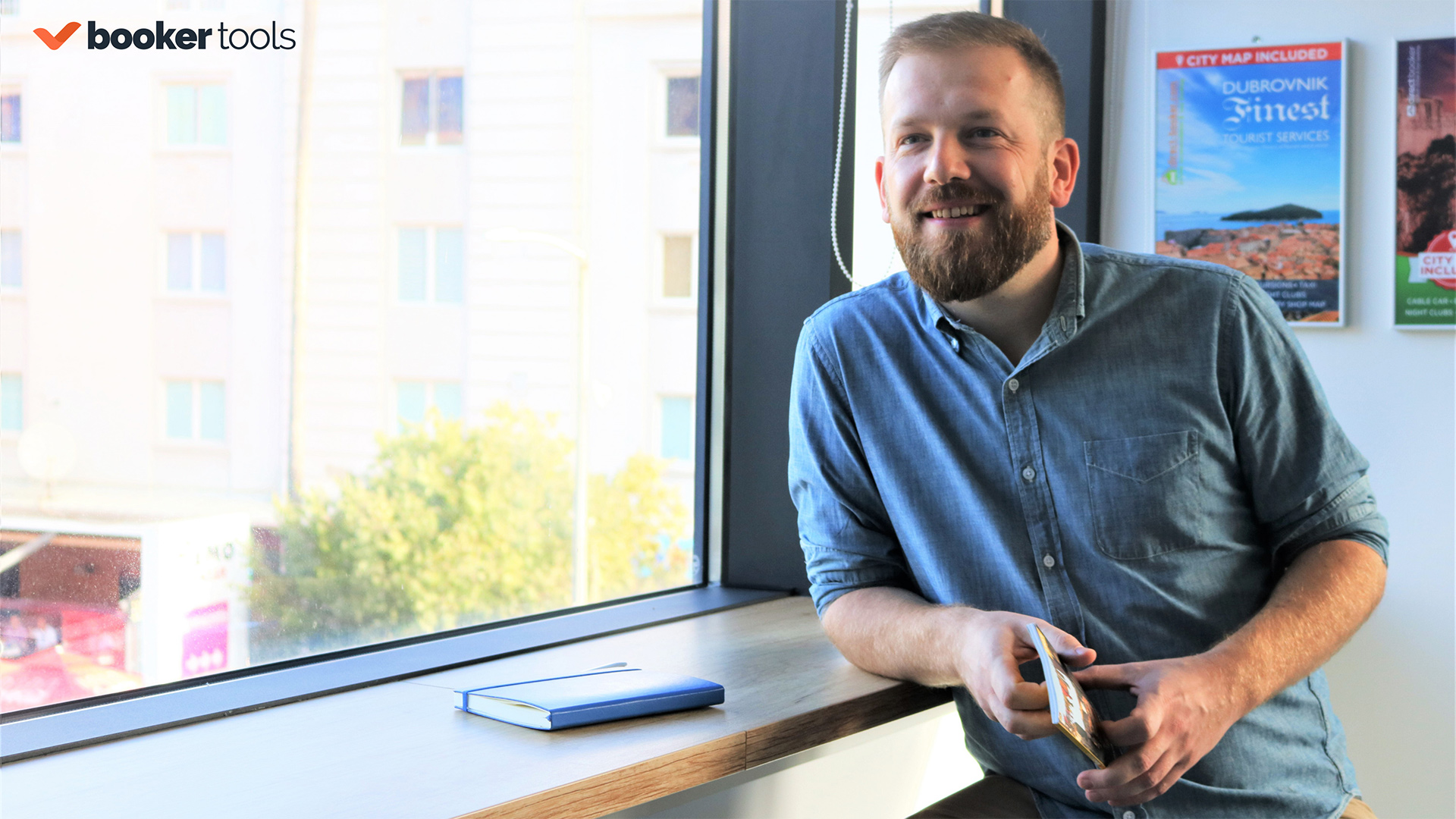 Current Global Partnerships director of Direct Booker Miro Pavlović, will tell us something about his professional life and maybe even more!
Those who know him best, say he is hard-working and ambitious!
Continue reading to find out more!
Can you tell us a little about yourself? Who is Miro Pavlović?
Taps microphone and sings "Microphone check one two what is this.." (laughs). I am a 40-year-old who was born and raised in Đakovo in Slavonia, where I lived for the first 20-ish years of my life, and where I also finished my high school of economics. After high school I signed up for American College in Dubrovnik where I finished 2 years and got an Associate degree in hospitality management, and once that was wrapped up I chose to stay in Dubrovnik, first of all because I really liked the quality of life here, and then also because it offered a lot more opportunities compared to my hometown.
Then you know how it goes, first job, second job, you fall in love once or twice, and suddenly you turn around and realize that you've been here for almost half of your life, and I STILL cannot really say that I'm a "dubrovcanin", and I'm pretty sure that a lot of people from Dubrovnik would quickly agree (laughs). Now that I've married a lady from Dubrovnik and that we recently had a baby girl, perhaps the opinion(s) will change, haha.
What is your previous working experience?
I've always been linked to service industry, first through the "usual" student jobs like waiter, bartender etc, and then later through different positions in tourism industry. Some 12-13 years ago I started working in Grand Circle Dubrovnik and in that company I went through various job positions, starting in accounts payable, then product and finance management, and last but not least working as a…well…different companies have a different name for that position but Grand Circle called that position a "buyer", a person who was negotiating and closing contracts with hotels, coach companies, restaurants, guides, etc. First I would do a market research and analysis, and then I would sign the best option following the guidelines that we had in the company. It's been a long cooperation between Grand Circle and myself and I am very thankful for all the opportunities and lessons that I've had there. I grew a lot as a person, had some amazing experiences, met some exquisite people and made a lot of friends-for-life in all corners of this beautiful planet.
How did it help you for this position?
If we're talking about the experience in Grand Circle, it helps tremendously, first through the learning, connections and cooperations that I've had during my time in the company (which can help a lot for my new position), but also because I've seen the "internals" of a major travel company, I've cooperated with major players, made tough decisions, I've been a "small cog in the machine" and have been led by some strong people, but I've also been a decision maker and a leader to a bunch of strong professionals as well. It all adds up to a massive experience, it leads to a lot of "aha!" moments, and it leads to A LOT of personality development moments where you're pushed to think quickly on your feet and make an instant decision, as we we're going with the motto "Even a bad decision is better than no decision at all".
And if we're talking about my experience before Grand Circle…well, I can still make a mean cup of coffee, and some "refreshing" cocktails as well (laughs). Though I would need to refresh my memory on the cocktails, to be fair haha.
What does a Global Partnerships Director do?
The idea behind the position is to organize the team and to "spread the word" about an excellent short term rental company franchise and to go global. The idea is to develop strategies and plans, to increase client base, to develop business, to create new partnerships when it comes to both Direct Booker franchises and when it comes to Booker Tools software partnerships with other similar property management agencies.
In a nutshell, the idea is to make Direct Booker and Booker Tools a "gold standard" when people (and companies) think about the term "channel manager" and "property management system". When you think about coffee first names that probably pop to your mind are Lavazza, Illy, Julius Meinl. What we aim to achieve is that when you think about a channel manager and PSM, we are among the first ones that pop to your mind.
At this point in time the team consists of Ana and myself, but we have a very strong support from our Management (Ivan, Nikola and Nino) who are very much involved in day-to-day operation and sales, which is very much appreciated from our side.
You are managing sales for PMS Booker Tools, and franchise Direct Booker. What is your vision for these products?
Well, like mentioned above, the vision is to have us as a strong presence first of all in Europe and to also be very present on other continents as well. The time of the manual work when it comes to managing properties is gone, all property managers and agencies are replacing manual work with software that automises the processes and the market itself is very lively and VERY active, and now its down to us to take a good portion of that cake for ourselves. We definitely have excellent products that are applicable to any corner of the earth, that can be successful in any part of the world, and now its our job to find the right partners and to increase our presence. And I cannot also forget the fact that we are now in the process of wrapping up our own webpage that will be a new force for us, an OTA platform where you will also be able to book all that we offer. I mean, we already have one in function but unfortunately the final product was not where we wanted it to be so now a completely new package is being developed that will be a good boost for our company and for our long term plans.
What are goals and challenges in terms of the global expansion? How do you plan to achieve these goals?
The biggest challenge is like in any business, to get the ball rolling. Now, luckily for me I did not come to a company where we're starting from the very bottom and need to dig our way out of the hole, this company is already very strong, it invested some serious capital into developing 2 very good products which are definitely "sellable" on the market. How am I planning to do this..? Well, I would not want to share ALL our secrets, would I? (laughs)
Who are your potential business partners?
The good thing about Direct Booker and Booker Tools is that they are applicable to any type of people or companies on the property management market. You are an owner of several short term rental units and want to leave the marketing and sales to someone else? We can do that for you through our Direct Booker system, either ourselves or through our franchisees. You are an owner of several units but you want to do everything on your own? We can provide you with a software that will make your life a LOT easier. You are an agency who handles 50 or a 100 units? We can provide you with a system that will allow your employees to not spend hours and hours typing in manually all the data, but that they can focus on the quality and better service towards your guests. Short term strategy is to focus more on agencies and larger clients of course, but that definitely does not mean that we will neglect our other partners.
What are your target markets for Booker Tools, and Direct Booker franchises?
There isn't really any market where I would go with only one of them, as they are applicable for any market, and they are also overlapping in their purpose. Anyone who takes our franchise will use Booker Tools, they will also become a re-seller of the software, so it all goes hand in hand, there is no point in splitting them up.
When can we expect first major results?
The idea is to see the first major results within the next year. Now, admittedly, due to the current situation in the tourism market it is not going to be an easy task to deliver these results, people are extra careful in regards to changes and investments now, which is completely logical. But, we have 2 very good products, we have a very fair selling price based on percentage of completed reservations (no fixed fees, no money in advance) which was a great decision from our side, we have the sales team and the huge backup and support from the owners of the company, we have a dedicated IT team who are further developing the program to add more features to it to make it even more desireable… There is no reason why we should not be a superstar on the market.
There are no secrets to success. It is the result of preparation and hard work. Thank you for this qualities you putting into the company!
https://blog.direct-booker.com/wp-content/uploads/2020/04/Meet_Miro.jpg
1080
1920
directwp_user
https://blog.direct-booker.com/wp-content/uploads/2021/05/logo-direct_booker_600.png
directwp_user
2020-11-05 12:29:23
2021-05-19 13:50:22
Meet Miro, Global Partnerships Director @Direct Booker!