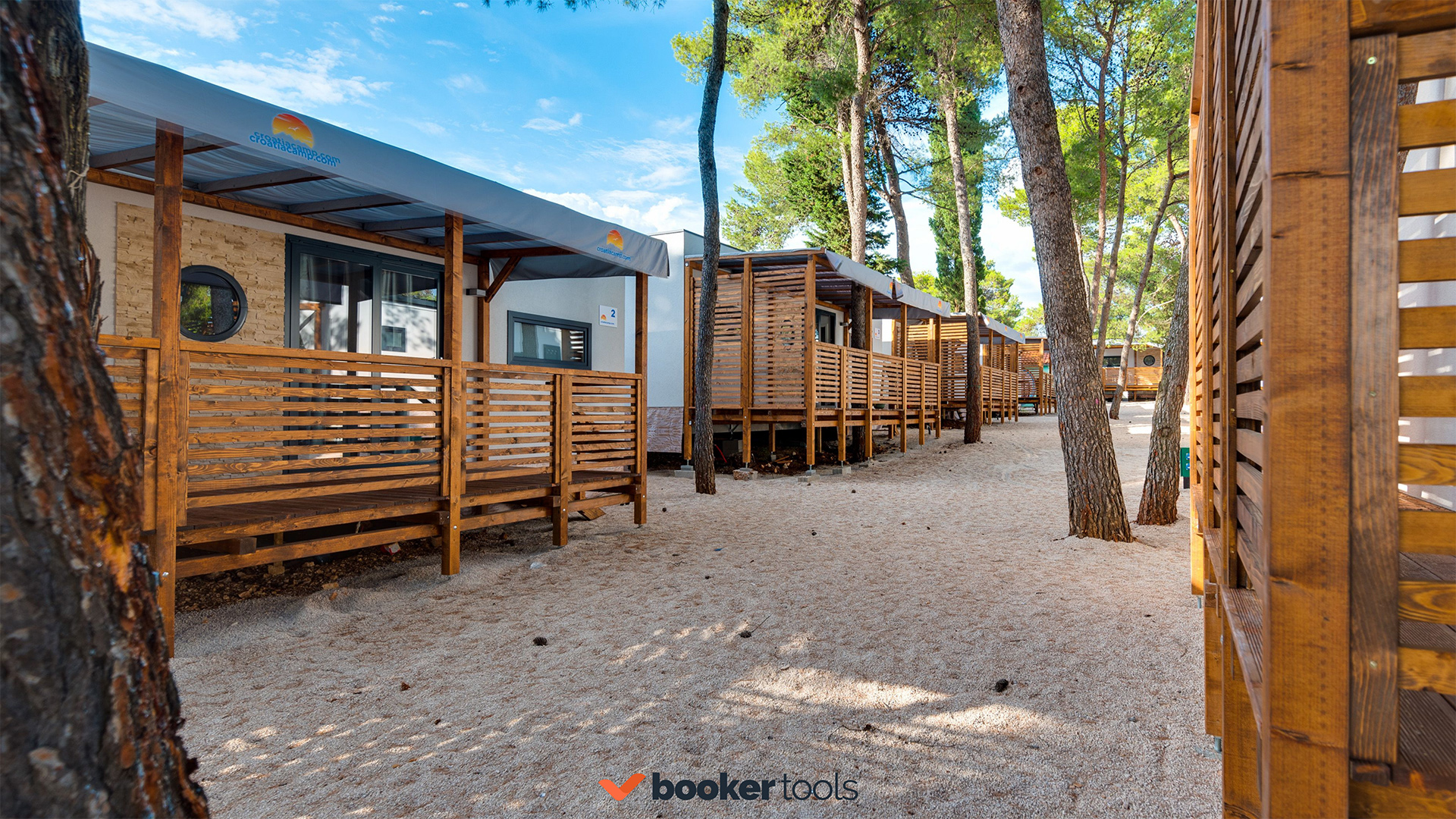 If we would ask travelers all around the world what is their first thought regarding bookings and travels they would definitely answer Booking.com, Airbnb, Expedia… For managing sales in short -term rentals it is necessary to use reliable technology, for example, our Property Management Software (PMS).
There are several solutions worldwide, and one of them comes from Croatia.
Booker Tools is a Croatian software developed for the needs of World-Award-Winning short term rental agency, Direct Booker. Channel Manager and PMS are used by thousands of users connected to 8000 properties in 9 countries.
It is a big challenge for finding a suitable technological solution for camps because of specifics in their accommodation units and business models. We asked Maggie Bačelić, Business Manager at a company that rents mobile houses for camps that are located in Pirovac and Vodice.
"I was looking for a technological solution that would make my business better. While I was googling PMS, I came across Booker Tools, which fits perfectly to all my wishes and requests."
Booker Tools solutions are based not only on the needs of various users but also on the needs of Direct Booker, one of the most successful short term rental agency in the world, based in Dubrovnik, Croatia.
"The Direct Booker reference was a key component in choosing the software, as well as the fact that the software has proven itself in several countries, for several types of users and accommodation units with an annual turnover of more than 100 000 reservations. All of the above gave me the answer to my question – it is a proven and reliable software."
Thanks to Booker Tools, a small company Direct Booker achieved enviable results of savings and revenue growth. Software was also offered on the market for camps, agencies, ho(s)tels and vacation rental owners.
"Booker Tools is a simple and practical technological solution to increase business efficiency – with an emphasis on saving time and a significant increase in the number of direct bookings. We have all regulations, invoices, fiscal cash register, calendar, guest details in one software. Booker Tools allows you to manage units in multiple locations and fulfils all the needs of users with more than 30 accommodation units. "
You can forget calendar's manual closing, concerns about overbooking, price modifications and restrictions in each separate sales channel. Booker Tools allows users to automatically synchronize bookings, prices, restrictions, availability, and content across the world's largest sales channels, communication with guests from one system (without individual login), direct reservations… All in one place.
"I would highly recommend Booker Tools to all camp owners. The software enables automation and increases business efficiency. I can easily see all bookings and details on one screen. There is a mobile application with which I can have control over my objects at any time. Plus, online device management in multiple locations and automatic entry of guest data. I need one user account for all objects with an overview of all important information in one place and automatic synchronization with Phobs."
Booker Tools PMS can be connected to other channel managers for a better and complete software solution. It was exactly the ideal solution for this user, who connected it to the Phobs channel manager. At Phobs, they develop tailor-made tourism solutions and their customers are hotels, hostels and campsites.
"Booker Tools and Phobs are the perfect combination for my business due to the specific camping connections that Phobs has. The combination of Booker Tools and Phobs solved the problem of 24-hour booking control. I am delighted with the combination of Phobs and Booker Tools, which makes my job very easy. Previously, all reservations had to be entered manually via the web in the PMS software. It was not easy to track availability on our site, so we had fewer direct bookings. "
Booker Tools is more than just technology or software. Our customer support consists of professionals who, based on many years of experience working in the short-term rental business, offer consultation and constant customer support.
"I've been using a different channel manager for many years. I stopped using it for several reasons; one of them was the negative customer support experience. On the other side, Booker Tools customer support is excellent, with issues resolved as soon as possible. "
If you also manage a camp, agency, ho(s)tel or private accommodation, and want to check Booker Tools options, try it for free 15 days. We look forward to new partnership and expansion of the network of satisfied customers.
https://blog.direct-booker.com/wp-content/uploads/2020/10/camp_management_software.jpg
1080
1920
directwp_user
https://blog.direct-booker.com/wp-content/uploads/2021/05/logo-direct_booker_600.png
directwp_user
2020-10-29 13:37:37
2021-05-19 13:50:22
Camp Management Software